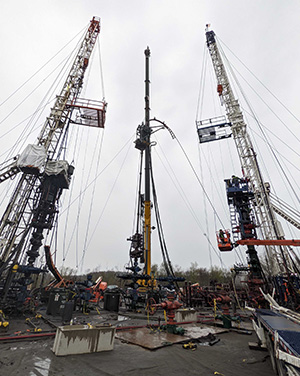 A well completion is far and away the most important part of a well installation. At the end of the job, the production tubing delivers crude oil or gas to the surface. The completion process removes barriers created during the frac and gets that tubing into place.
Given its outsized role in launching a new well, a well completion should be handled by a contractor that meets all of your needs in terms of scheduling, professionalism, safety and expertise. Below, we'll tell you why it's so important to find the right oil and gas well completion company.
A Timely Completion Creates a Productive Well
In the oil and gas industry, a well that isn't producing is a liability. If you're having difficulty landing a well completions contractor, you're going to see a delayed return from that asset. That's a problem.
Fortunately, this issue is solved pretty simply. You just need to find a partner who won't make you wait — one with the equipment and personnel needed to start your project immediately.
So how do you find one of these speedier companies? A good tactic to use is to ask questions when dealing with an oil and gas well completion company for the first time. For example: Do you have a complete equipment package in-house to include snubbing units, pumps, and swivels? Or are you relying on third parties to rent these items? Do you have staff who can start my project immediately? Or are you stretched too thin? What is the typical window for your company from booking to project launch?
The answers you get should help you separate more responsive companies from those who are just going to slow you down.
Safe and Professional Work Protects Your Investment
Let's be real: oil and gas wells are expensive to create and maintain, even when things are running smoothly. That's why, in every stage, it's absolutely critical to avoid costly mistakes. You don't want do-overs. You don't want damage.
It should go without saying, but you especially don't want trouble as a result of the completions contractor you choose. If you work with a careless contractor, however, you could find yourself staring at OSHA related incidents, a blowout, or a fishing job. None of these make money for you.
When selecting a company for your well completions, you want one with a sterling reputation — one with a long track record of professionalism, accurate project planning and safe work. By finding a partner like that, you can ensure your well will come online and be productive without any surprises.
Expertise Ensures the Job Is Done Right
A lot of companies have experience with various well servicing activities. It's not always the case, though, that this experience is helpful in the completions space.
The last thing you want is to realize the contractor you've hired is in over its head. It's important to make sure the company you choose knows exactly what needs done and how to do it.
Before you take the plunge with a new company, you should try to get a sense of their expertise. For example, you could ask them how fast they typically can pull tubing off the bottom after drilling their last frac plug.
For those in the know, that type of question should be a pretty straightforward one to answer. If a contractor can't come up with a confident response, well completions may be a bit out of their element. You should probably look at a different company for your needs.