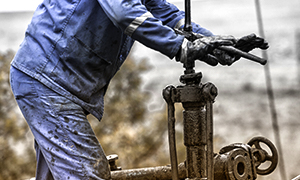 Oil and gas wells are nothing new. Neither are the service companies that sprung up around the industry. For over a hundred years, oil and gas wells have been drilled in order to extract chemicals from deep beneath the earth's surface. Most are aware these wells exist, but few are familiar with the process behind building them.
Well completion services aren't talked about much, but they're an integral piece of the well deployment puzzle. If you're wondering what those services entail, exactly, you may first need a quick introduction to well completions themselves.
What is a Well Completion?
According to Oil Price, well completion "​​is the term used to describe the assembly and installation of a downhole pipe and related equipment so that oil and gas can be efficiently and safely extracted from a well." The name is fitting. An oil or gas well can be drilled, but installation of that downhole pipe — a delivery channel from the underground to the surface — is what ultimately brings it to "completion."
There are several different types of well completions depending on well design and the needs of the production company. For example, one well might require an open hole completion, while another might utilize a linear completion. There are also many components that make up a well completion — some with fascinating names like wellhead, Christmas tree, tubing hanger and more.
Without a well completion, a well is simply a hole in the ground that lacks the means to safely pump out product.
Well Completion Services Explained
Well completion services, then, are capabilities provided by contractors who specialize in installing this type of equipment. It isn't always cost-effective for energy companies to employ their own completion crews. Instead, they bring in experienced outside help only when it's needed.
As you can imagine, such services are in high demand. New wells are drilled constantly as oil and gas deposits are discovered. Energy conglomerates want to quickly start production and get the most from their wells as possible. Well completion service companies, then, are key to ensuring a well can come online and start generating revenue for the business that owns it.
Why Plants & Goodwin is the Best Choice for Well Completion Services
When you need an experienced hand, P&G is the company to count on. We've been delivering oil and gas well solutions to clients for upwards of 50 years, providing assistance with everything from well servicing to cementing to plug and abandonment.
We're also proud to offer well completion services such as frac plug drill outs, tube ups and chemical mixing. And because we own and transport our own equipment, we can be on-site and ready to work faster than most competitors.