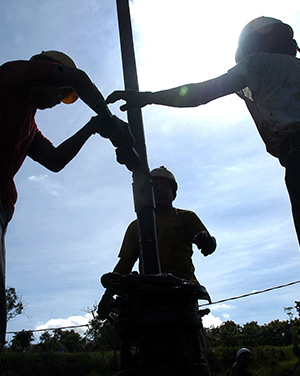 A well completion is an extremely important part of preparing an oil well for production. As we've written previously, a well completion involves installing the downhole pipe necessary for oil extraction. Without the pipe (and other critical pieces), there is no oil. This is why reliable well completion services are both necessary and highly sought after.
New but uncompleted wells are appearing at a rate of thousands per month, according to the EIA. Unfortunately, a number of them remain uncompleted for long periods of time due to challenges faced in the completion process. In this blog post, we'll take a look at some of the common challenges faced in oil well completion from an operator's perspective. And, of course, we'll tell you what we do at Plants & Goodwin to help solve these challenges.
Issues Locating and Acquiring Equipment
Many well completion companies operate on a project-to-project basis with very slim infrastructure. They bid on a job, win it, and then try to obtain the equipment necessary to do the work. Because the tools, machines and materials needed for a well completion project aren't easily sourced — and because there are so many different pieces — delays are fairly typical with this type of approach.
The way Plants & Goodwin addresses this concern is simple: we already own the equipment. If there's a rig, snubbing unit, pump, swivel, or chemical required for your oil well completion project, you can rest assured P&G has it in-house. Our turnkey solution combines our hardware and materials with proven processes we've refined over countless completion jobs. With it, we're able to start on time and significantly reduce project cost and duration.
Contractors Lacking the Appropriate Knowledge and Experience
Another downside to the way most contractors operate — figuring it out as they go — is that they don't have many long-term employees with deep well completion experience. Upon being awarded a project, their next mission becomes finding enough bodies to throw at it. Expertise is not always a priority, and crews are often made up of new faces who may not have worked together in the past. This can lead to inconsistency and, in the worst case, a well completion of poor quality.
At P&G, we believe every well completion job can find success with the following:
Experienced workers who know well completion inside and out

Cohesive crews made up of talented specialists who work together all the time and know one another

Understanding the needs of the client




By sticking to this formula, we ensure that the workers on your project have the skills for the job, your crew is consistent from one project to the next, and our high bar for quality is achieved with each oil well completion we take on.
Shifting Project Needs
Oil well completion projects do not always go to plan — especially when working with multiple contractors. You may have a delay with a contractor getting the right equipment. This delay can lead to more delays for others performing different tasks related to the project.
It's also possible that the work necessary before completion runs over schedule, leading to uncertainty about when the completion portion of the overall well installation project can begin. Long story short: when trying to coordinate many moving parts, there's not a lot of "wiggle room" should an issue arise. When one does, it can set your completion project back by weeks or even months.
The great thing about working with Plants & Goodwin is that, from start to finish, we're the only company you need for your oil well completion. We have all of the equipment and manpower necessary to execute the entirety of the project. For this reason, scheduling conflicts are far less common, and we're more able to adapt to changing circumstances. No client has ever called us "rigid." If the timeline or project scope changes, we work with you, and we don't make you wait.
Your Partner for Well Completion Services
Well completions are a team effort — not only between the crews of highly trained experts we send to each job, but also between ourselves and our clients. Plants & Goodwin sees itself as a partner in these endeavors, providing you with the well completion services you need to bring your well online and reach your business objectives.
For your next oil well completion, there's no need to outsource different pieces to multiple companies when one can do it all. Contact Plants & Goodwin today and see why we're trusted by some of the largest operators in the industry with well completions, plug and abandonment, and more.